What is Basic Life Support (BLS)?
Basic Life Support describes a set of basic life saving first aid techniques. The Resuscitation Council (UK) produces a set of guidelines for first aiders to administer Basic Life Support which will cover:
Safe management of an incident
Dealing with an unresponsive breathing casualty (recovery position)
Dealing with an unresponsive non-breathing casualty (CPR & Chain of survival)
Dealing with a choking casualty both mild and severe (back slaps & abdominal thrusts)
Using an Automated External Defibrillator if one is available
All React First, first aid courses cover these basic life support (BLS) techniques as per the current UK Resusciation Council guidelines.
Have a look at out What is CPR? tip to learn more about this well-known, life-saving first aid treatment, for cardiac arrest.
Our short (4hr) BLS and AED course is popular for those needing a basic first aid course or who want to learn how to use an AED. We run a programme of open courses for individuals to attend in Central London or we can send a trainer to your premises to run on-site training for your company.
Unless it contains the word 'Paediatric' in the course title, first aid training will be specific to adults. For those working in environments where first aid may be needed for a range of ages we have a number of training courses which may suit these needs, from GPs to Forest School leaders and teachers:
---
Adult Basic Life Support (BLS) Sequence - UK Resus Council (2021 guidelines)
[Ref: UK Resuscitation Council Adult BLS Guidelines]
---
Paediatric out-of-hospital Basic Life Support Sequence - UK Resus Council (2021 guidelines)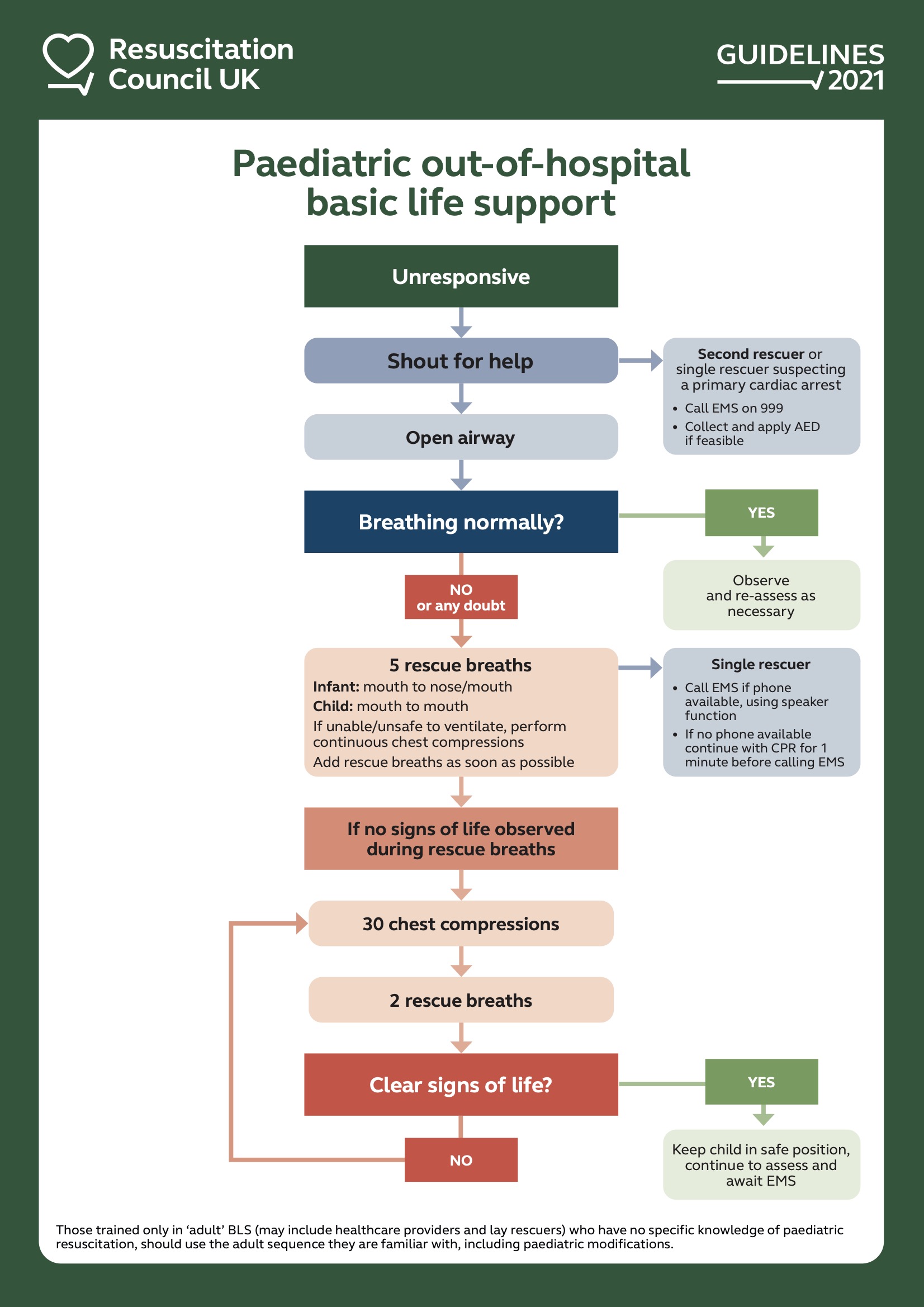 [Ref: UK Resuscitation Council Paedaitric BLS Guidelines]
Return to First Aid Tips List
Share this Tip