Group Course Booking Form
Thank you for completing this form, it should only take a minute and it will help us to ensure that everything runs smoothly for your course. If you have any questions just give the office a call on 0207 193 2608 or drop us an email at info@reactfirst.co.uk..
Course Booking Form
Please note that fields marked with a * are required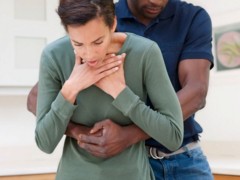 Why don't we call abdominal thrusts the Heimlich manoeuvre anymore?
When you come on one of our first aid courses you'll notice that we no longer talk about the "Heimlich manoeuvre" when dealing with choking. Instead we call the same movement an "abdominal thrust" and we also give you an alternative action, back blows, to try to dislodge the blockage first. Why is this?
Read More