Ski Safe - Top tips to stay safe and injury free when skiing
We are all keen to get back on the slopes, especially after missing last season. Here are my top tips to stay safe and injury free when skiing and what to do if something bad does happen.
Before you go:
1) Make sure you are fit for your ski holiday. Go to the gym and do ski specific exercises. To train at home use an App like SkiFit to make sure your body is ready for a week of skiing!
2) Make sure you are insured correctly. Buy your own ski insurance or buy the insurance offered with your ski pass and make sure you know what it covers.
3) Take an Outdoor First Aid course. BASI Instructor, Alison Thacker and British Mountain Guide, Rob Jarvis regularly update their first aid skills with React First on our ITC 16hr Outdoor First Aid course.
4) If it's been a while book a ski lesson or if you'd like to head somewhere more adventurous but don't have the mountain skills book a mountain guide to take you out.
5) Remind yourself of the rules of the pistes and make sure everyone in your group know them too. For a clear recap, check out the Piste X Code, a community initiative in Morzine, Lets Gets and Avoriaz aiming to make us all more considerate on the slopes and help avoid accidents.
On the day:
1) Warm up. Make sure you do a few warm up runs on easy pistes before you head off-piste or onto harder slopes.
2) Stay warm and keep eating and drinking. Make sure you are constantly snacking on those long cold ski lifts and remain properly hydrated. Always stop for lunch to warm up and refuel.
3) Know your limits. The more tired you get, the more likely you are to injury yourself.
4) Often the last run of the day back to the car park is busy and icy. Why not take a lift down instead?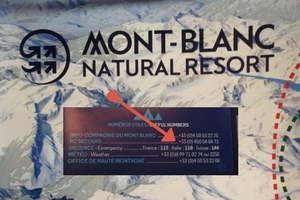 5) Make sure you know what to do and who to call if something bad happens! Pick up a piste map before you head into resort. It has the piste rescue numbers on it. If you are heading off piste make sure you've got the local rescue numbers with you. If you regularly head into terrain where there is limited mobile phone reception, think seriously about buying a sat phone or a radio to contact the emergency services.
6) If you are heading off-piste make sure you and everyone in your group has got the correct safety equipment: transceiver, shovel, probe, and that you all know how to use it. Carry a first aid kit and a group shelter in the group too.
7) Do a full transceiver check in the car park to make sure everyone has their transceiver on and that they have enough battery life left.
If something happens: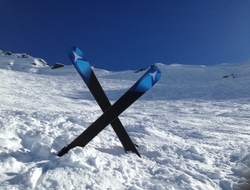 1) Check for Danger. Make sure that you, your casualty and the rest of your group are safe. This could be safe from the weather, from other skiers or from other geographical dangers like seracs, steep slopes above where you are etc.
2) Administer first aid if required.
3) Call for help. Make sure you have the emergency numbers with you before you set off, and calmly and clearly give the following information:
Who? Your name and the telephone number you are calling from
What? Type of accident, number of victims, seriousness, type of injuries.
Where? Your location, the route you are on / which piste you are on or near and your altitude.
When? Time of accident.
Weather? Depending on where you are and how help will get to you you might be asked about wind speed, wind direction and visibility.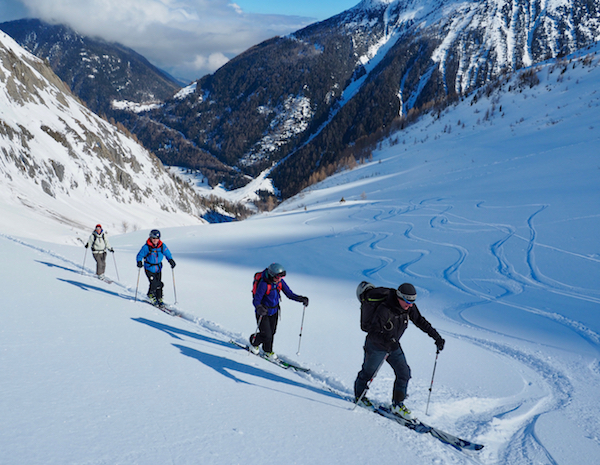 [Image courtesy of Rob Jarvis, www.highmountainguides.com]
Have a great holiday. Hope you get some fresh tracks :o)
Return to First Aid Tips List
Share this Tip