First Aid Course Standard Hygiene Procedures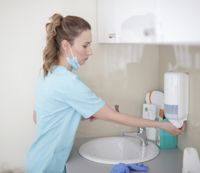 A first aid training course requires a group of people to be in close proximity all day, therefore people may well breathe in recycled air containing micro droplets, touch surfaces others have touched and share toilet and refreshment facilities.
A standard set of hygiene measures remain in place on our first aid courses. Workplace specific hygiene requirements on private courses where we send a trainer to your premises can also be accommodated. Please let us know what these are at the time of booking.
Hygiene on First Aid Courses
DO NOT attend the course if you have recently tested positive for COVID-19. There is no longer a legal requirement to isolate following a positive test but we ask that all attendees follow the government guidance to stay at home and avoid contact with other people. If you develop symptoms of COVID-19 during the course you will be asked to leave immediately.
DO NOT attend the course if you are feeling unwell or if you are displaying any symptoms of COVID-19. The symptoms are: High temperature OR New continuous cough OR loss of taste or smell.
You must follow all the hygiene guidance given by the trainer, for example: hand-washing, maintaining distance, using PPE, or you risk being asked to leave the course.
You will be asked to disinfect your hands when you enter the training room. We highly recommend also washing your hands with warm soapy water regularly throughout the course.
The trainer will ask you to minimise face-to-face contact with other attendees.
When close contact is required for elements of the learning and assessment, you will be asked to wear a mask.
Gloves, hand sanitizer and disposable masks are available on the course.
Cleaning materials are available to clean shared equipment between uses.
Return to First Aid Tips List
Share this Tip