Centre Policies
React First Ltd is a centre approved by the Awarding Organisation (AO) ITC First Ltd to deliver first aid training and qualifications.
AOs are regulated by the national qualification regulators (Ofqual or SQA). As part of the regulated standards, AOs have dedicated quality assurance processes to approve and monitor their recognised training centres and to ensure that their training centres work in compliance with the Assessment Principles for First Aid Qualifications.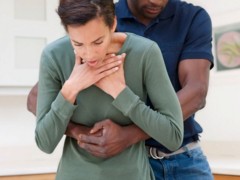 Why don't we call abdominal thrusts the Heimlich manoeuvre anymore?
When you come on one of our first aid courses you'll notice that we no longer talk about the "Heimlich manoeuvre" when dealing with choking. Instead we call the same movement an "abdominal thrust" and we also give you an alternative action, back blows, to try to dislodge the blockage first. Why is this?
Read More