london First Aid Courses for Individuals
React First has a full schedule of public first aid courses across Central London for individuals to attend. All our courses give a first aid, including CPR, certificate which is valid for 3 years. All CPR is taught using the up to date UK Resuscitation Council Guidelines.
in-house First Aid training for Groups
From short CPR certificate courses to 3 day First Aid at Work qualifications, in-house first aid courses are delivered onsite for businesses, schools, groups and organisations by our friendly and skilled training team. Call us on 0207 193 2608 or email your requirements to info@reactfirst.co.uk for a quote or advice.
Get a feel for our lively, friendly courses with this video of a typical training day with React First.
accredited and regulated training
React First is approved to deliver first aid qualifications by the Awarding Organisation ITC First Ltd. We deliver qualifications from the Regulated Qualifications Framework (RQF), the Scottish Credits and Qualifications Framework (SCQF) and ITC First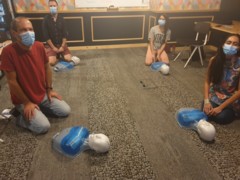 Face-to-face First Aid Training Restarts
Good news - we can now run face-to-face first aid training again.
Read More