How to use adrenaline auto-injectors like EpiPen®, Jext® or Emerade®
There are three main types of adrenaline auto-injector which are prescribed in the UK; EpiPen®, Jext® and Emerade®. Emerade is the most recent single use adrenalin auto-injector to become available in the UK. All are disposable, pre-filled automatic injection devices.
You may also have heard of Anapen®. Whilst Anapen® is in use in Ireland, the US and Europe it is not currently passed for use in the UK.
The React First Anaphylaxis and Adrenaline Auto-injector training course looks at all of the different types of auto-injector and how they are used as well as covering:
Primary Survey
CPR Resuscitation
Safe Airway Position
Recognition and treatment of severe allergic reaction
Communication and casualty care
Dealing with an unconscious casualty
Different types of auto-injector – EpiPen®, Jext® and Emerade
Correct use of an adrenaline auto-injector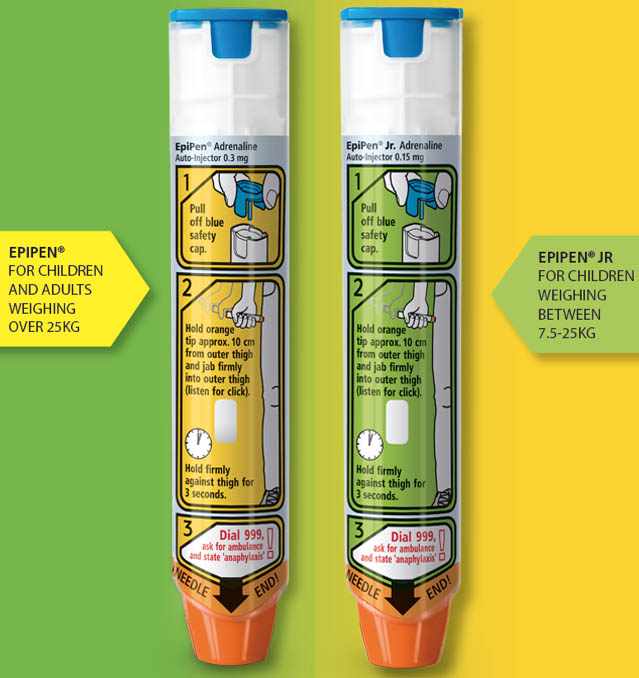 EpiPen®
EipPen® is available in the following doses, the dose is decided by your doctor:
0.3mg (yellow label) - For adults and children weighing over 25kg
0.15 mg Junior - For children weighing between 7.5 and 25kg
Click here to watch the "How to Use" video from the manufacturer
The EpiPen® patients website also has a lot of information and resources about living with anaphylaxis. You can also register your EpiPen for their free Expiry Alert Service.
Emerade®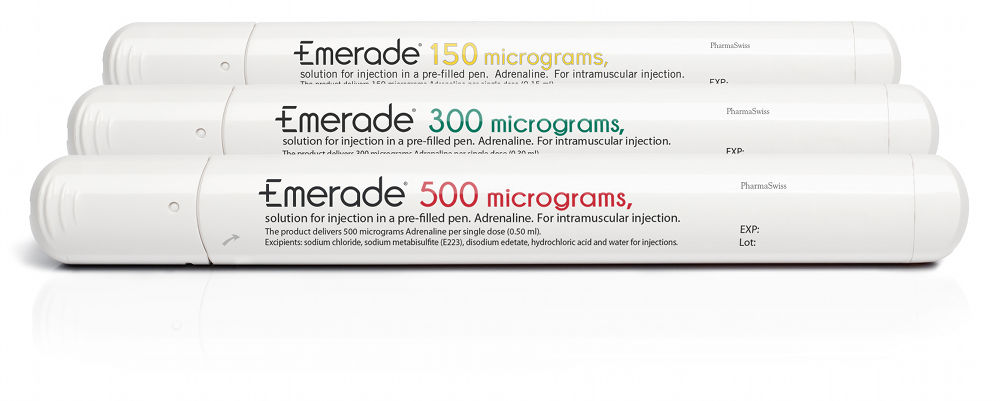 Emerade is available in the following doses, the dose is decided by your doctor:
150 micrograms
300 micrograms
500 micrograms
Use in Children:
Emerade 500 micrograms is not recommended for use in children.
Children below 15 kg bodyweight: A dosage below 150 micrograms cannot be administered with sufficient accuracy in children weighing less than 15 kg and use is therefore not recommended unless during a life-threatening situation and under medical advice.
Children between 15 kg and 30 kg bodyweight: The usual dose is 150 micrograms.
Children over 30 kg bodyweight: The usual dose is 300 micrograms.
Adolescent patients over 30 kg bodyweight: The dosage recommendations for adult patients should be followed.
Use in Adults
The recommended dose is 300 micrograms for individuals under 60 kg bodyweight. The recommended dose is 300 to 500 micrograms for individuals over 60 kg bodyweight, depending on clinical judgement.
An initial dose should be administered as soon as symptoms of anaphylaxis are recognised. In the absence of clinical improvement or if deterioration occurs, a second injection with an additional Emerade may be administered 5 – 15 minutes after the first injection. It is recommended that the patients are prescribed two Emerade pens which they should carry at all times.
Click here to watch the "How to Use" video from the manufacturer
The Emerade website has useful information and resources for patients as well as their famiy and friends. There is an expiry reminder service where you can register your pen tso that you can be sure to re-order one before it goes out of date. There is also a free mobile app which includes instructions for Emerade as well as symptoms of anaphylaxis.
Did you know that you can carry Emerade in your hand luggage? You may need your doctor to sign a travel certificate. Emerade have an online form to print a travel certificate for your doctor to sign.

Jext®
Jext also have instructions for use available in over 20 different languages here: How to use Jext - choose your language
The Jext® website has lots of information for patients, family and friends. Jext® also has a free app with instructions for use and an expiry alert reminder system.
Return to First Aid Tips List
Share this Tip