Are you Seizure Savvy?
Would you know what to do if one of your colleagues had a seizure in the workplace? One in 100 people has epilepsy and yet two out of every three people in the UK who do not have a family member with epilepsy, would not know how to help someone during a seizure.
That is why Epilepsy Society launched a new campaign during National Epilepsy Week (20-26 May 2019) to make sure that everyone is #seizuresavvy.
The charity's new campaign gives people three simple but key instructions to remember in an emergency: "Calm, Cushion, Call."
Stay CALM and stay with the person who is having a seizure.
CUSHION their head with a coat or cardigan to stop them injuring themselves.
CALL an ambulance if the seizure does not stop after five minutes.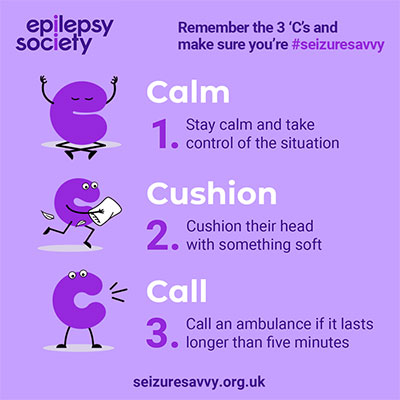 Most seizures are self limiting and will stop of their own accord within a couple of minutes. The person will need to be looked after until a friend or family member is called, but they may not need an ambulance.
However, the "Calm, Cushion, Call" campaign is specifically designed to help people cope in an emergency.
"It's not that people are unwilling to help," says the charity's Chief Executive Clare Pelham. "I think more often than not people are only too willing to do the right thing. It's just that they don't know how to. We want to make sure everyone is #seizuresavvy."
More detailed first aid relating to convulsive (tonic clonic) seizures and other types of seizures can be found at www.epilepsysociety.org.uk/first-aid-epileptic-seizures
Return to First Aid Tips List
Share this Tip