16hr Outdoor First Aid Course
The outdoor environment nearly always means that the casualty has to be looked after for a longer time scale than is typical in an urban setting. This course is designed to meet the needs of those working away from immediate assistance in the remote and wilderness regions.
Certification is dependent on successful continuous assessment of the candidate and successful completion of a multiple choice question sheet. Those who successfully complete the course are awarded a certificate that is valid for three years. The certificate entitles the candidate to be a First Aider for 3 years from date of issue. No previous first aid experience is required to attend this course.
Qualification Details
Candidates who successfully complete this sports first aid course will receive an 'ITC Level 3 Award in Outdoor First Aid' qualification. The certificate is valid for 3 years.
This course is delivered over 16 contact hours. It is assessed using tutor observation of practical competency. In order to pass the course attendees are required to take a full and active part in practising all of the procedures and protocols taught. This provides the necessary continual assessment opportunities. There is also 10 question multiple choice question paper which has a pass mark of 60%.
Additional Emergency First Aid at Work certificate
Candidates attending the Outdoor First Aid course can also request an additional ITC Level 3 Award in Emergency First Aid at Work qualification.
You can request this certificate when you book your place or via the trainer running the course. After the course has been completed it is no longer possible.

Course Timings
09:00 -18:00 on both days. We have to have at least 16 contact hours with everyone attending this course which means that it will both start and end promptly.
Course Content
Vital signs – breathing, level of consciousness, temperature, colour
Incident management – a systematic approach to managing first aid incidents. ABCDE
Airway Management – causes and treatment of unconscious collapse. Safe Airway Positions
Breathing Problems - choking
Circulation Problems – Internal bleeding, external bleeding and treatment for shock
Damage – treatment of injury: head, spine, chest, abdomen, pelvis, leg & arm, including remote improvised techniques
Environmental Considerations – hypothermia, hyperthermia and cold injuries
Casualty Monitoring
Cardiopulmonary Resuscitation (CPR) - Adult and Drowning protocols are covered
Safe Use of an Automated External Defibrillator (AED)
Common Illnesses – asthma, diabetes and epilepsy
Other Illnesses - Weils disease, Lyme disease etc
Awareness of current regulations
Safe best practice
Booking a Course
We can run in-house training at your venue for groups of up to 12 per instructor. You simply need a room large enough to not only seat everyone but also to allow them to lie on the floor and be rolled around without bumping into furniture or each other. Ask about organising a course for your group >>

We have a programme of public outdoor first aid courses in London and Chamonix, French Alps for individuals to attend. Dates and locations of these courses are on our course calendar. View public first aid course dates >>
We know all of our trainers personally and our training is consistent regardless of the trainer and the course location.
These are high quality, fun and practical courses which give all those attending the skills and confidence that they need should a first aid situation arise. We always receive excellent feedback from candidates.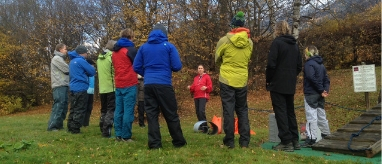 Happy Customers
"Very good course. I would recommend it to any outdoor professional. Trainer was very good - enthusiastic, helpful etc"
Dave Cumming, British Mountain Guide
"The React First 'Outdoor First Aid' course provided intensive hands-on training, essential for our staff who work in all sorts of weather conditions with machinery and tools. The training was very thorough, easy to understand and all staff thoroughly enjoyed the emergency scenarios. I highly recommend this course!"
Kirsty Wedge, Events Coordinator, Trees for Cities
"Out of all the first aid course i have been on the teaching on this one was far superior to the others - meaning that i took in more information and came away more confident"
Alison Culshaw, BASI Level 4 ISTD and AMI member
The next courses with public places
March - Mon 8 & Tues 9

09:00-18:00

Holland Park Ecology Centre, London, W8 6LU
(venue details)
£170.00
+VAT
March - Sat 13 & Sun 14

09:00-18:00

Shadwell Basin Outdoor Centre, London, E1W 3TD
(venue details)
£170.00
+VAT
March - Mon 22 & Tues 23

09:00-18:00

Mary's Community Centre, Islington, N1 2TX
(venue details)
£170.00
+VAT
April - Sat 17 & Sun 18

09:00-18:00

Shadwell Basin Outdoor Centre, London, E1W 3TD
(venue details)
£170.00
+VAT
April - Mon 19 & Tues 20

09:00-18:00

Mary's Community Centre, Islington, N1 2TX
(venue details)
£170.00
+VAT
May - Mon 10 & Tues 11

09:00-18:00

Mary's Community Centre, Islington, N1 2TX
(venue details)
£170.00
+VAT
May - Sat 15 & Sun 16

09:00-18:00

Shadwell Basin Outdoor Centre, London, E1W 3TD
(venue details)
£170.00
+VAT
June - Wed 9 & Thurs 10

09:00-18:00

Holland Park Ecology Centre, London, W8 6LU
(venue details)
£170.00
+VAT
June - Sat 19 & Sun 20

09:00-18:00

Shadwell Basin Outdoor Centre, London, E1W 3TD
(venue details)
£170.00
+VAT
July - Sat 17 & Sun 18

09:00-18:00

Shadwell Basin Outdoor Centre, London, E1W 3TD
(venue details)
£170.00
+VAT
August - Sat 21 & Sun 22

09:00-18:00

Shadwell Basin Outdoor Centre, London, E1W 3TD
(venue details)
£170.00
+VAT
September - Sat 18 & Sun 19

09:00-18:00

Shadwell Basin Outdoor Centre, London, E1W 3TD
(venue details)
£170.00
+VAT
October - Sat 16 & Sun 17

09:00-18:00

Shadwell Basin Outdoor Centre, London, E1W 3TD
(venue details)
£170.00
+VAT
November - Sat 13 & Sun 14

09:00-18:00

Shadwell Basin Outdoor Centre, London, E1W 3TD
(venue details)
£170.00
+VAT
December - Sat 11 & Sun 12

09:00-18:00

Shadwell Basin Outdoor Centre, London, E1W 3TD
(venue details)
£170.00
+VAT
The next courses with public places

March - Mon 8 & Tues 9

09:00-18:00

£170.00
+VAT
Venue: Holland Park Ecology Centre, London, W8 6LU
March - Sat 13 & Sun 14

09:00-18:00

£170.00
+VAT
Venue: Shadwell Basin Outdoor Centre, London, E1W 3TD
March - Mon 22 & Tues 23

09:00-18:00

£170.00
+VAT
Venue: Mary's Community Centre, Islington, N1 2TX
April - Sat 17 & Sun 18

09:00-18:00

£170.00
+VAT
Venue: Shadwell Basin Outdoor Centre, London, E1W 3TD
April - Mon 19 & Tues 20

09:00-18:00

£170.00
+VAT
Venue: Mary's Community Centre, Islington, N1 2TX
May - Mon 10 & Tues 11

09:00-18:00

£170.00
+VAT
Venue: Mary's Community Centre, Islington, N1 2TX
May - Sat 15 & Sun 16

09:00-18:00

£170.00
+VAT
Venue: Shadwell Basin Outdoor Centre, London, E1W 3TD
June - Wed 9 & Thurs 10

09:00-18:00

£170.00
+VAT
Venue: Holland Park Ecology Centre, London, W8 6LU
June - Sat 19 & Sun 20

09:00-18:00

£170.00
+VAT
Venue: Shadwell Basin Outdoor Centre, London, E1W 3TD
July - Sat 17 & Sun 18

09:00-18:00

£170.00
+VAT
Venue: Shadwell Basin Outdoor Centre, London, E1W 3TD
August - Sat 21 & Sun 22

09:00-18:00

£170.00
+VAT
Venue: Shadwell Basin Outdoor Centre, London, E1W 3TD
September - Sat 18 & Sun 19

09:00-18:00

£170.00
+VAT
Venue: Shadwell Basin Outdoor Centre, London, E1W 3TD
October - Sat 16 & Sun 17

09:00-18:00

£170.00
+VAT
Venue: Shadwell Basin Outdoor Centre, London, E1W 3TD
November - Sat 13 & Sun 14

09:00-18:00

£170.00
+VAT
Venue: Shadwell Basin Outdoor Centre, London, E1W 3TD
December - Sat 11 & Sun 12

09:00-18:00

£170.00
+VAT
Venue: Shadwell Basin Outdoor Centre, London, E1W 3TD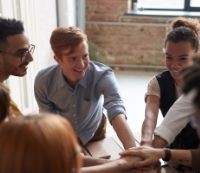 Online Youth Mental Health First Aid - Delegate FAQs
MHFA England have produced a useful set of delegate FAQs if you have signed up to the online Youth MHFA course to become a Youth Mental Health First Aider
Read More