Pitch-side Sports First Aid with AED Training
When the course is registered with ITC select "Sport First Aid - 2 days (ITC)" from the drop down.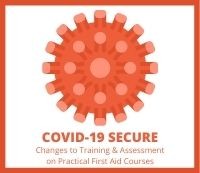 COVID-Secure Practical First Aid Training
React First has made a number of adaptations to practical first aid courses to ensure that they are delivered in as safe a way as possible for our learners as well as our trainers.
The trainer will ask you to minimise face-to-face with other attendees and, when close contact is required for elements of the learning and assessment, you will be asked to wear a mask.
Read More