Face-to-Face First Aid Training Restarts
Face-to-face first aid training has resumed. React First is well-known for running first aid courses which are highly practical and interactive but with social distancing rules to follow we've adapted our training to reduce the interaction between learners.
There are a number of new measures to allow us to deliver first aid training in as safe a manner as possible given the current covid-19 threat level.
Each venue, whether for a private course or one of our public courses must be able to accommodate all our learners with a 2 metre separate for both theory (seated) and practical sessions. If necessary we will limit the number of leaners to allow this to happen. This might mean that some venues we previoulsy used won't be suitable anymore even when they have reopenend. We are always on the look out for spacious venues in London / South East to run courses from, even for a one-off over the next few months. Please do get in touch if you have any leads on suitable venues.
Our trainers are used to co-training on large courses with more than 12 learners but at the moment the maximum number that we will train in one group is 12. If the room we are using doesn't have enough space to accommodate 12 with the required distancing then we will limit the numbers.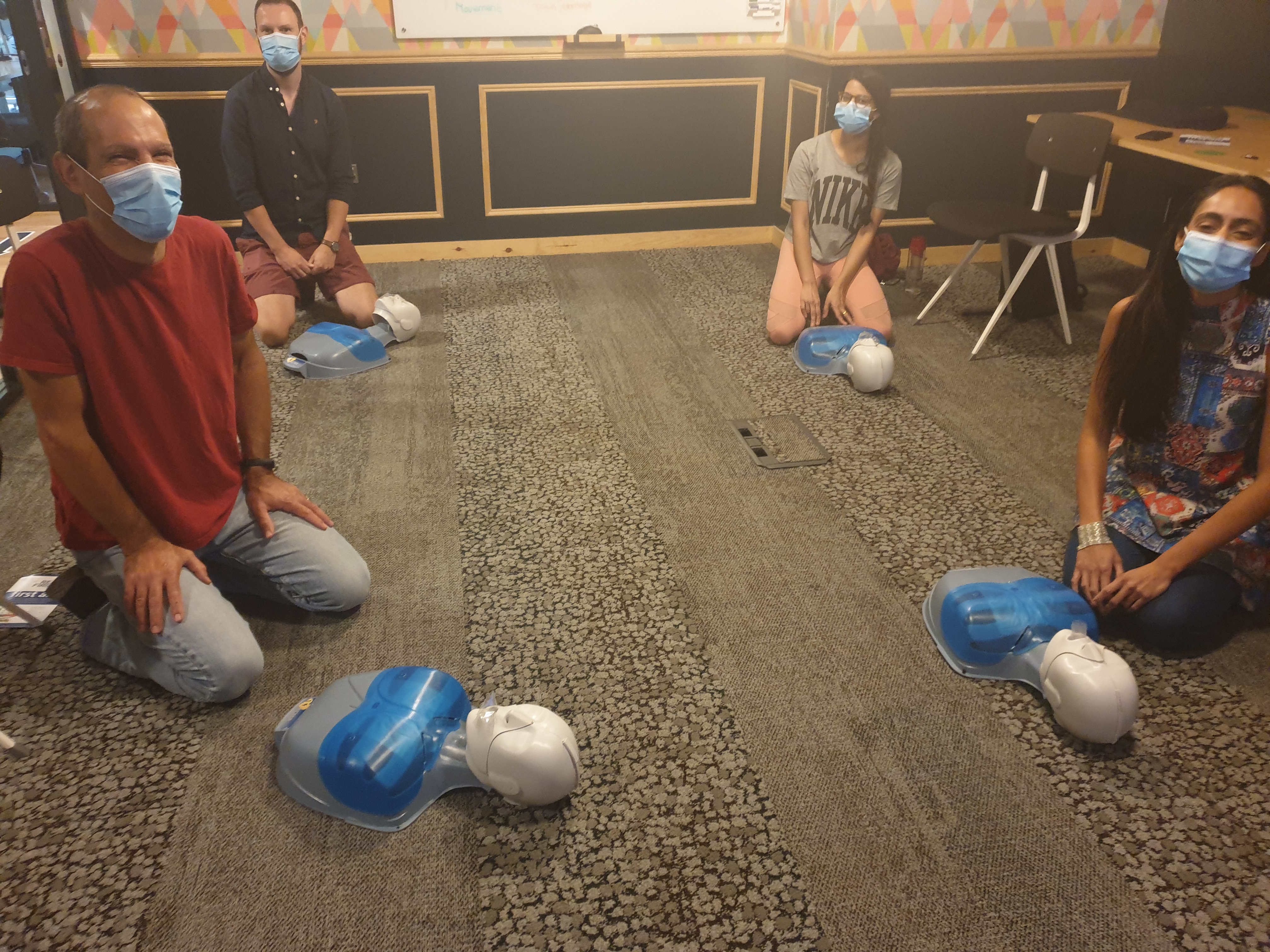 Confirmed Public First Aid Courses in London
For up-to-date details and course dates at each venue visit: https://www.reactfirst.co.uk/london-first-aid-course-venues.htm
For September and October courses will run from the following venues: FSC Epping Forest (Essex), Shadwell Basin Outdoor Avtivity Centre (East London), Holland Park Ecology Centre (Central London), NLSSM School of Sports Massage (Tottenham, North London), City Athletic Gym (Central London), Bishop Creighton House (West London).
From November we courses will also run from Chiswick Sports Ground (West London) and The Bridge (South London).
Coronavirus - COVID19
The COVID19 coronavirus is a new respiratory virus which is primarily spread between people in close contact, most often via small droplets in the air produced by coughing and sneezing, which are then breathed in. Secondly droplets then fall to the ground or onto a surface. Infection may result from touching a contaminated surface and then touching the face. The virus is most contagious during the first 3 days after onset of symptoms, although spread can also occur before symptoms appear and for people who do not show symptoms.
COVID19 symptoms can be found on the NHS website - https://www.nhs.uk/conditions/coronavirus- covid-19/symptoms/
A first aid training course requires a group of people to be in close proximity all day, therefore people may well breathe in recycled air containing micro droplets, touch surfaces others have touched and share toilet and refreshment facilities.
Additional Safety Measures on First Aid Courses
DO NOT attend the course if you are feeling unwell or if you, or any member of your household, displaying any symptoms of COVID-19.
The symptoms are: High temperature OR New continuous cough OR loss of taste or smell. Find out how to get a test and how long to isolate at nhs.uk/coronavirus
You will be asked to complete a health questionnaire before you can register on the course on the day. A copy of the Health Questionnaire is sent to you before the course. Everybody in the training room must complete this questionnaire in order to attend the training.
If you show any signs or symptoms of covid-19 you will be asked to leave the course immediately.
If you should be self-isolating or in quarantine you will be asked to leave the course immediately.
If you develop symptoms during the training you will be asked to leave the course immediately.
You must follow all the covid-19 guidance given by the trainer, for example hand-washing, maintaining distance, using PPE, or you risk being asked to leave the course.
You will be asked to disinfect your hands when you enter the training room. We highly recommend also washing your hands with warm soapy water in accordance with Public Health England guidelines. Here is a video from the NHS on how to wash your hands: https://www.nhs.uk/live-well/healthy-body/best-way-to-wash-your-hands/
Chairs will be placed with 2 metres between them. Each learner will have a designated chair for the day
During the course you will be asked to maintain a distance of 2 metres between yourself, the other attendees and the trainer whenever possible.
During the assessment of certain elements of the course, when this distancing is not possible for a short time, you will be asked to use a disposable face mask and disposable gloves. These are provided by the trainer and the trainer will instruct you on their use.
For the duration of the course you will be loaned a resuscitation manikin which is for your sole use. CPR manikins are cleaned between each course and new lungs are fitted. This has always been the case on all courses that we run.
Gloves, hand sanitizer and disposable masks are available on the course.
This information is provided to all learners as part of the pre-course information that they receive before attending one of our courses, either as an individual on a public first aid course or as part of a private group.
Public Transport
Avoid public transport if you can. If you must use public transport here is a link to the government advice on how to travel safely on public transport : https://www.gov.uk/guidance/coronavirus-covid-19-safer-travel-guidance-for-passengers#public-transport
From 15 June 2020, you must wear a face covering on public transport in England. You will be breaking the law if you fail to do so and could be fined.
For our public first aid course programme we are currently running as many courses as possible from venues which have parking options available. Either free or paid. If you want to drive to a venue where we can't provide free parking, our trainers have sucessfully used: https://www.justpark.com to find cheap, all day parking options close by.
Return to First Aid Tips List
Share this Tip