COVID-Secure Practical First Aid Training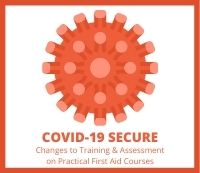 React First is a Centre approved by a UK Awarding Organisation to deliver first aid training qualifications. We are part of the Education and Training sector and the first aid training we provide is part of a formal curriculum.
The rule of 6 does not apply to formal training such as First Aid. Adaptations have been made to the course delivery to reduce interactions and some public courses have reduced capacity to allow for the required social distancing.
The COVID19 coronavirus is a respiratory virus which is primarily spread between people in close contact, most often via small droplets in the air produced by coughing and sneezing, which are then breathed in. Secondly droplets then fall to the ground or onto a surface. Infection may result from touching a contaminated surface and then touching the face. The virus is most contagious during the first 3 days after onset of symptoms, although spread can also occur before symptoms appear and for people who do not show symptoms.
A practical first aid training course requires a group of people to be in close proximity all day, therefore people may well breathe in recycled air containing micro droplets, touch surfaces others have touched and share toilet and refreshment facilities.
React First has made a number of adaptations to our practical first aid courses to ensure that they are delivered in as safe a way as possible for our learners as well as our trainers. Even with COVID-19 transmission reduction measures in place it is important to understand that no training course can be 100% safe.
If you are in a high risk or moderate risk category (details of these categories can be found here: https://www.nhs.uk/conditions/coronavirus-covid-19/people-at-higher-risk/whos-at-higher-risk-from-coronavirus/ ) it would not be advisable to attend a practical first aid course at this time.
The legislation requiring employers to have appropriate first aid cover for business has not changed:
The HSE still considers first aid provision to be important with implicit training needs, the guidance on their website remains largely unchanged. The HSE requires that assessment of first aid competence is conducted face-to-face.
Businesses still have to comply with the law, have sufficient first aid cover and a first aid needs assessment.
Organisations and individuals still have a duty of care to those in their care.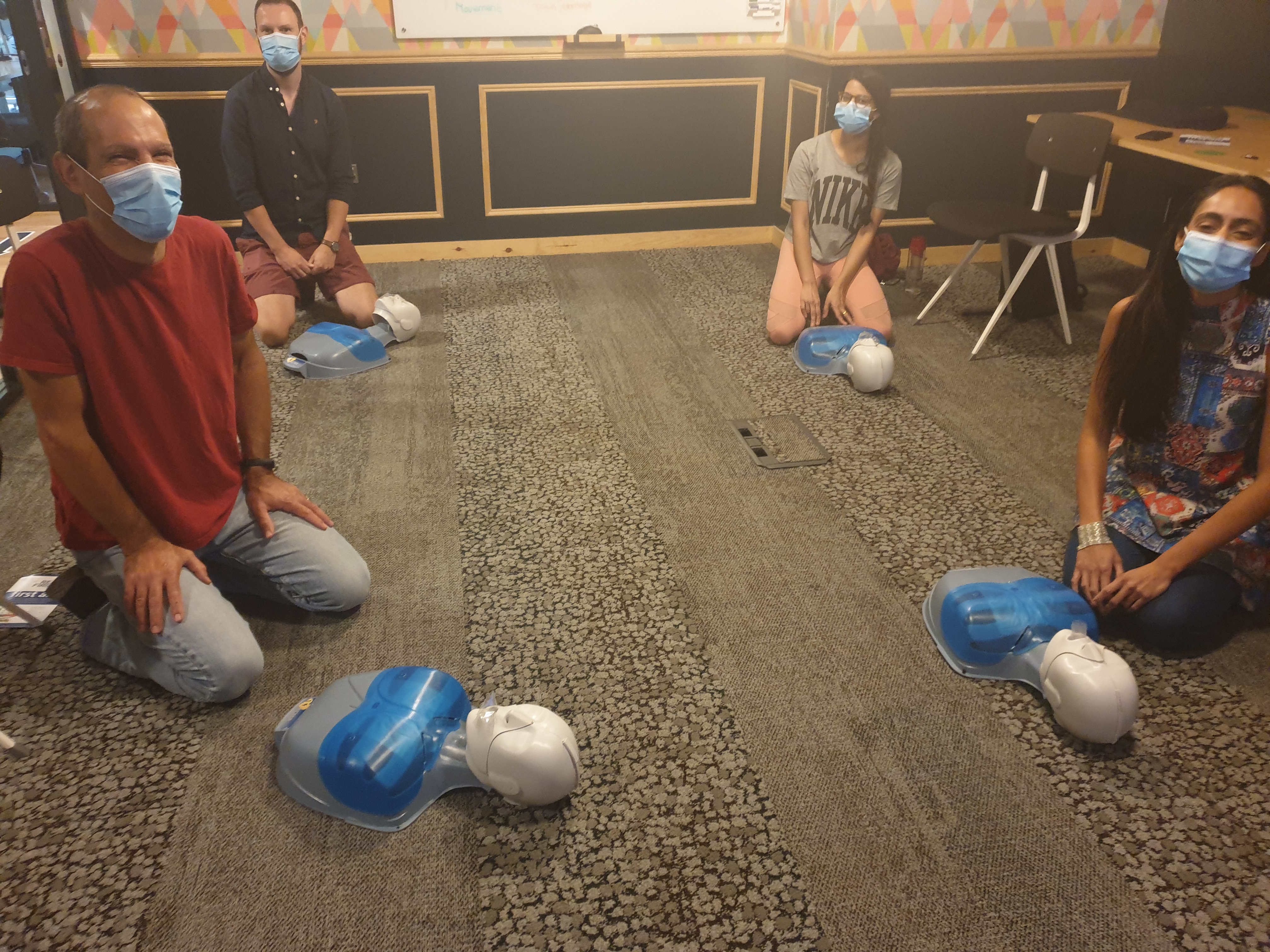 Additional Safety Measures on Practical First Aid Training Courses
DO NOT attend the course if you are feeling unwell or if you, or any member of your household, displaying any symptoms of COVID-19. The symptoms are: High temperature OR New continuous cough OR loss of taste or smell. Find out how to get a test and how long to isolate at https://www.nhs.uk/conditions/coronavirus-covid-19/
You will be asked to complete a health questionnaire before you can register on the course on the day. A copy of the Health Questionnaire is attached to this email. Everybody in the training room must complete this questionnaire.

If you show any signs or symptoms of covid-19 you will be asked to leave the course immediately,
If you should be self-isolating or in quarantine you will be asked to leave the course immediately,
If you develop symptoms during the training you will be asked to leave the course immediately,
You must follow all the covid-19 guidance given by the trainer, for example hand-washing, maintaining distance, using PPE, or you risk being asked to leave the course.

You will be asked to disinfect your hands when you enter the training room. We highly recommend also washing your hands with warm soapy water in accordance with Public Health England guidelines. Here is a video from the NHS on how to wash your hands: https://www.nhs.uk/live-well/healthy-body/best-way-to-wash-your-hands/
Chairs will be placed with 2 metres between them. Each learner will have a designated chair for the day
During the course you will be asked to maintain a distance of 2 metres between yourself, the other attendees and the trainer whenever possible.
During the assessment of certain elements of the course, when this distancing is not possible for a short time, you will be asked to use a disposable face mask and disposable gloves. These are provided by the trainer and the trainer will instruct you on their use.
For the duration of the course you will be loaned a resuscitation manikin which is for your sole use.
Gloves, hand sanitizer and disposable masks are available on the course.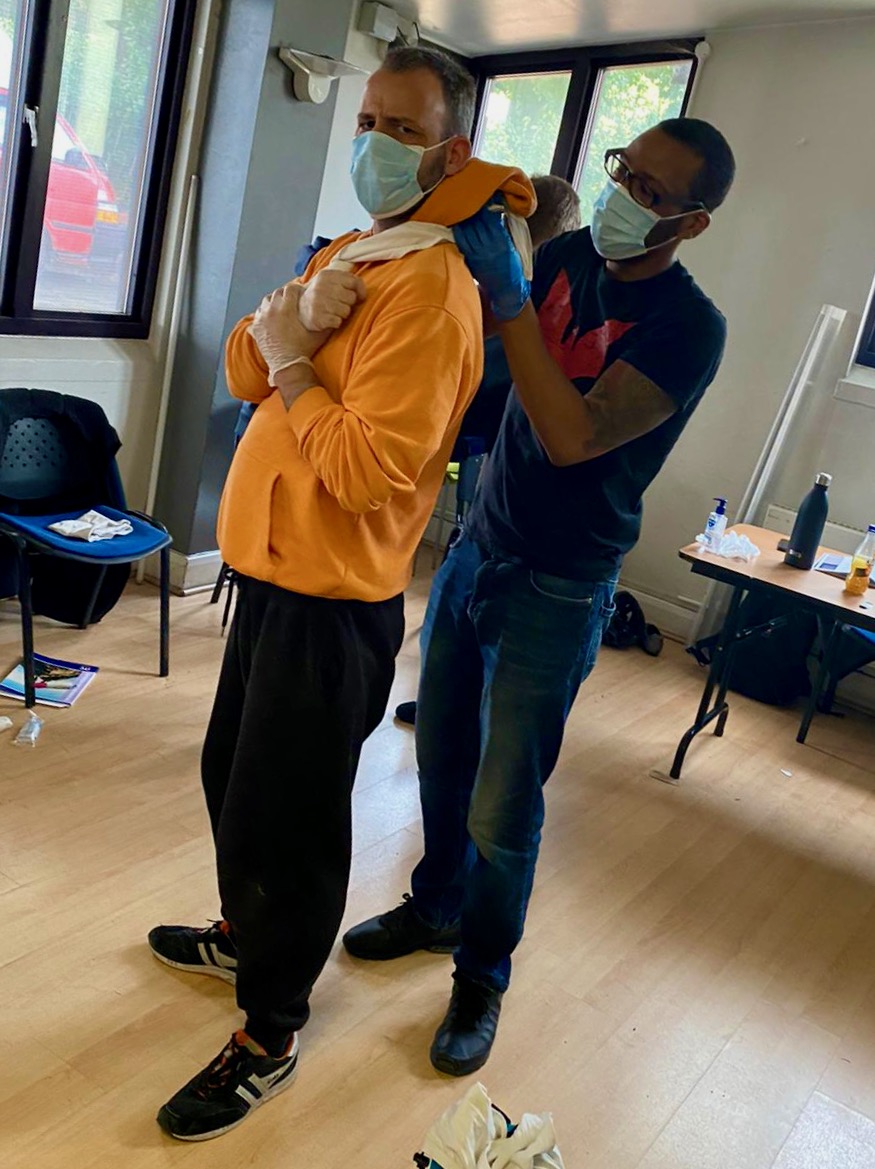 Return to First Aid Tips List
Share this Tip